Did you steal our album?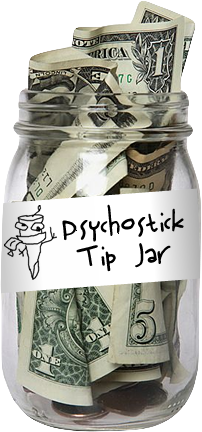 We forgive you. :)
We've got no beef with you if you found our music on a file sharing program, or a friend burned you a copy of any Psychostick CD, or whatever. We totally forgive you. We ask that if you enjoyed what you heard, feel free to tip us on our hard work. It'll make us feel appreciated and allow us to eat more Del Taco.
Of course, if you purchased our stuff and still wanna tip us, we won't stop you. :D
Mmmm... shredded beef burritos.
To tip Psychostick, enter the tip amount and click on "Tip the 'Stick!"