Biography
Most high school friends lose contact and drift apart when they graduate from high school. But what would happen if two crazy friends who loved metal went on to create a metal band? Not just any metal band, but a metal band infused with comedy?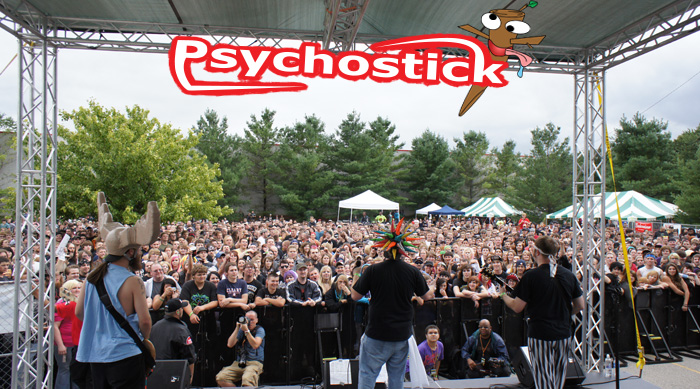 The result is Psychostick: a comedic metal (self-proclaimed "humorcore") band with a reputation for having hilarious lyrics, heavy riffs, notorious stage antics, and a high energy performance. The music successfully crosses a level of heaviness and aggression found in bands such as Chimaira, Machine Head, and Hatebreed with the wit and humor of The Bloodhound Gang, Tenacious D, and Weird Al Yankovic.
"Psychostick wrapped more amazingness into about 35 minutes than I have ever really seen in concert." - behind the hype.com
It all started when Rob Kersey and Josh Key decided to take the crazy sense of humor that only two best friends can share, and throw it onto a canvas of heavy music. "I noticed that we had a different view of metal than other metalheads... we found certain things about it funny", Kersey confesses.
Since it's start in Phoenix, AZ in the year 2000, Psychostick has worn silly costumes on stage and caused millions of laughs around the world and hundreds of mosh pits across the US... sometimes at the same time. They are best known for their hit "BEER!" (also affectionately called "The Beer Song"), whose video has become a internet viral hit, has achieved respectable airplay on satellite radio and FM radio stations in the US. Fans who heard "BEER!" and checked out the bands' full cds were rewarded with an entertaining experience that was destined to become a road trip favorite.
"It's a magical moment when you see a band doing exactly what they love to do." - The Real Atlanta.com
Psychostick has always maintained a fiercely independent, do-it-yourself attitude: all Psychostick records are self-produced as well as engineered and mixed by their guitarist Joshua Key.The website, artwork, and general marketing is done by their singer Rob Kersey, who also exchanged and sacrificed his personal dream truck for a touring van for the band to hit the road in 2006.
Their label, Rock Ridge music, encourages their creative freedom, supporting what the band does rather than nudging them towards a "safer" style which has proven to sell. "When it comes time to release a cd, we give it Rock Ridge, they give us the thumbs up, ad release it. I didn't know a record deal could be so simple," says Key.
After locating to Phoenix, Kersey and Key found their drummer Alex Dontre (formerly Alex Preiss) through a classified ad in a local paper. He was a solid and fiercely aggressive drummer that was paranoid that aliens would take over the world, which of course made him the perfect fit as Psychostick's rhythm section. After finding and settling on bassist Mike Kocian, another great fit, the band quickly developed a reputation in the music scene as "those crazy Psychostick guys", and fans would the next show in anticipation so that they could get their "Stick Fix".
The band recorded their first full length cd, "We Couldn't Think of a Title" in 2003, which was later re-released nationally in stores through Rock Ridge Music in 2006. Combining that with a series of relentless touring started that same year, new fans around the country got their first taste of Psychostick, and they were hungry for the fresh twist on a heavy genre they already so much loved.
"...the more you listen, the funnier and harder it becomes." - rocknycliveand recorded.com
Follow-up records "The Flesh Eating Rollerskate Holiday Joyride" (2007) and "Sandwich" (2009) featured a new bassist (Jimmy Grant) as well as additional guitarist (Jake McReynolds). The single "Girl Directions" off of "Sandwich" saw airplay on many stations around the US,such as Q101 in Chicago, IL.
In December of 2009, the band parted ways with Grant and McReynolds, and in 2010 (after releasing an EP called "The Digital Appetizer" with Joshy slappin' a bass) Psychostick tried out a new bassist, Matty J, aka "Matty J Moose". Matty had just graduated college with a mechanical engineering degree decided to apply that degree (somehow) in a touring band. Psychostick toured with Green Jelly and Nashville Pussy, and Matty passed with flying colors.
In August of 2011, The band's third LP "Space Vampires VS Zombie Dinosaurs in 3-D" was unleashed with a support tour with Mushroomhead. Currently Psychostick is touring and filming music videos.
Fun facts about Psychostick
Completed 21 nationwide tours, in 47 states, since July 2006.
Completed nationwide tours with Mushroomhead, Green Jelly, Nashville Pussy, Look What I Did, Screaming Mechanical Brain, Powerglove, Bobaflex, Mower, Indorphine, Better Left Unsaid, Retard-O-Bot, and 9mm Solution.
Played "Noctis V Metalfest" in Calgary, Canada in 2012, with Venom, Pig Destroyer, Manilla Road, Nunslaughter, and many others.
Played the "Rockstay Mayhem Festival" in St Louis, MO in 2012, with Slipknot, Slayer, Motorhead, Anthrax, As I Lay Dying, The Devil Wears Prada, White Chapel, Asking Alexandria, and many others
Played "Dirtfest" 2012 with Clutch, In This Moment, Hurt, Falling In Reverse, and many others
Played "Rockstary Mayhem Festival" in St Louis, MO in 2011, with Disturbed, Godsmack, Megadeth, Machine Head, In Flames, Suicide Silence, Trivium, Kingdom of Sorrow, Unearth, Straight Line Stitch, and more
Played "Earthday Birthday 18" in Orlando, FL in 2011, with Sevendust, Coheed and Cambria, Finger Eleven, Nonpoint, Drowning Pool, Hollywood Undead, A Day To Remember, All That Remains, The Supervillians, Hail the Villain, and Pop Evil
Played the "Jagermeister Music Tour" in Kansas City and St. Louis, MO in 2011, with Buckcherry, Hellyeah, All That Remains, and The Damned Things
Played the "Rockstar Mayhem Festival" in St. Louis, MO in 2010, with acts such as KORN, Rob Zombie, Lamb of God, Five Finger Death Punch, Hatebreed, Chimaira, Norma Jean, Atreyu, Winds of Plague, In This Moment, Shadows Fall, and 3 Inches of Blood
Played "The Gathering of the Juggalos" in southern Illinois, 2010, with acts such as Insane Clown Posse, Tech N9ne, Method Man/Red Man, and Twiztid
Played "Skatopia" in southern Ohio, 2010, with acts such as GWAR, Green Jelly, Fishbone, Meat Puppets, 7 Seconds, Murphy's Law, Agent Orange, Mustard Plug, and Downtown Brown
Played the "Jagermeister Music Tour" in St. Louis and Columbia, MO in 2009, with Pennywise and Pepper
Played the "Rockstar Mayhem Festival" in Phoenix, AZ in 2008, with acts such as Slipknot, Disturbed, Dragonforce, Mastodon, Machine Head, Underoath, Black Tide, Walls Of Jericho, 36 Crazyfists, and Five Finger Death Punch
Played a sold out show at The Myth in Minneapolis, MN in 2006, with Three Days Grace and Army of Anyone with an attendance of nearly 4,700 people.
Played with other national acts such as Hemlock, Exotic Animal Petting Zoo, Flaw, Within Chaos, Sexy Heroes, Oblige, Smile Empty Soul, Sick Puppies, Red Line Chemistry, The Exies, Autovein, Phunk Junkeez, Pumpjack, A New Revolution, Rehab, Downtown Brown, Vehemence, American Standard, Rikets, Opiate For The Masses, Butcher Jones, Sixstitch, Society 1, and Lennex.
Band Members
Yeah, the guys who make the tunes. You want them. Sexually? Maybe/Probably/Certainly.
Staff!
While we are "DIY" there are some awesome jerks who help keep Spaceship Psychostick at a constant warp 9. Engage!
We laughed at the end of Titanic.