February 28th 2016, 12:00 AM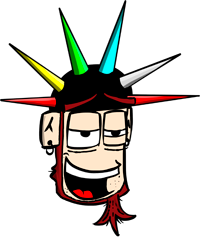 What, no comics lately?
My priorities have been shifting. We had a massively successful show at Magfest (Music and Gaming Festival), which not only was awesome, but I was able to finally secure a few more developers for... this.
I'm going to be working furiously on that over the next... while. PluhQuest has been in development purgatory for an embarrassingly long time. Now we have two seasoned developers to move things forward. The past two weeks have been more productive for PluhQuest than several years.
For those who've been paying attention to PluhQuest's "progress," I know you're all skeptical. You have every right to be. However now we have the best chance getting this out than we've ever had, and I can't wait to reveal the vision once it's ready.
Anyway, this drumhead was a commission from Fox McCloud (the fuzzy space pilot, I assume), and I'm pleased with this mashing up. MASH! MASH!