January 10th 2019, 12:00 AM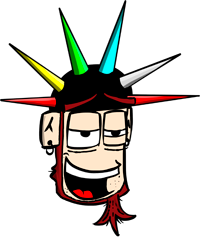 So much change has been happening that I often forget to do things. This apparently happened for an entire YEAR or something.
I have a Wacom Mobilestudio Pro 16, which is a really fancy tablet PC for creative "professionals," not that I'm one of those, but I threw way too many pennies at this thing whilst fighting a losing battle. It runs Windows 10 very poorly and I've had to send it in twice to Wacom for repairs. I got it back a month ago and haven't even opened it. Gonna sell that sumbitch and keep using the fantastic Apple Pencil and iPad Pro. Blows ALL Wacom tech AWAY and is CHEAPER, if you can believe that shit. I can't. Wacom seriously needs to step it up. Too late though, you've lost me. I do like your Intuos though; it's good in a pinch.
Anyway, so here's what's going on with me and the band and whatever:
I'm streaming as much as I can now
I want to start streaming more drawing and arts!
I love woodworking. Been hiding in my garage for the past week making my "shop" more usable. Love that shit. Does this mean I'm broken? Probably.
I might even stream woodworking someday. I even have comics written to poke fun at that. Shut up
I'm working as consistenly as ever on PluhQuest
This is more of a blog than a post. Shit.
Getting slowly caught up on adulting stuff that I've been doing everything in my power to avoid. Taxes schmaxes, am I right?
I can't guarantee that I'll be on point with the comics/blogs for a while, but I'mma do my best.